Main content starts here, tab to start navigating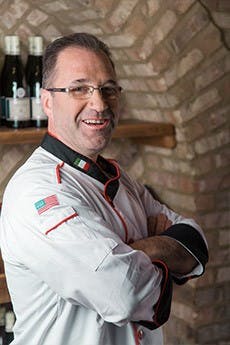 Chef Massimo Salatino
A native Italian, Massimo Salatino's career has spanned two decades, from kitchens in Italy to New York City, eventually settling in Chicago. As a youngster, Salatino worked at a friend's restaurant, where his enthusiasm and thirst for culinary knowledge was rewarded as they encouraged him to become a chef.
He obtained a degree in culinary arts from Italy's prestigious Scuola Alberghiera di Stresa, Lago Maggiore in 1982, and thus began his professional culinary career. Salatino worked in several celebrated Italian kitchens, including those of the Grande Hotel at the Regina Palace Hotel and at Harry's Bar in Venice. In 1989, Salatino moved to NYC, where he worked as Executive Chef at Ciao Bella, Bellini and Cipriani restaurants.
Salatino followed his heart to Chicago in 1991 (he had met a woman in NYC who was a Chicagoan and would later become his wife), where he took the opening Executive Chef position at Vivo. After 7 years, he opened one sixty blue as Sous Chef and in 1999 took the position of Corporate Chef for the Francesca's Restaurants group.
Salatino has been recognized in publications including Bon Appetit, Gourmet, and La Tavola and is involved in numerous charitable organizations to which he generously gives his time and expertise. His rustic, Northern-influenced Italian cooking focuses on fresh ingredients and simple techniques, and when asked what it is about cooking he enjoys best, would tell you that he still "learns something new each day." He and his wife Holly live just outside of the city in Wheaton, Illinois and have two children.